Now we're getting somewhere .... (how fast?)
Speed and Velocity
Just as distance and displacement have distinctly different meanings (despite their similarities), so do speed and velocity. Speed is a scalar quantity that refers to "how fast an object is moving."

Speed can be thought of as the rate at which an object covers distance. A fast-moving object has a high speed and covers a relatively large distance in a short amount of time. A slow-moving object has a low speed and covers a relatively small amount of distance in a short amount of time. An object with no movement at all has a zero speed.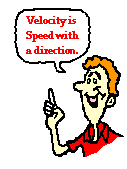 Velocity is a vector quantity that refers to "the rate at which an object changes its position." Imagine a person moving rapidly - one step forward and one step back - always returning to the original starting position. While this might result in a frenzy of activity, it would result in a zero velocity.
Because the person always returns to the original position, the motion would never result in a change in position. Since velocity is defined as the rate at which the position changes, this motion results in zero velocity.

If a person in motion wishes to maximize their velocity, then that person must make every effort to maximize the amount that they are displaced from their original position. Every step must go into moving that person further from where he or she started. For certain, the person should never change directions and begin to return to the starting position.
Calculating Average Speed and Average Velocity
The average speed during the course of a motion is often computed using the following formula:

In contrast, the average velocity is often computed using this formula

Let's begin implementing our understanding of these formulas with the following problem:
Q: While on vacation, Lisa Carr traveled a total distance of 440 miles. Her trip took 8 hours. What was her average speed?
To compute her average speed, we simply divide the distance of travel by the time of travel.

That was easy! Lisa Carr averaged a speed of 55 miles per hour.

She maynot have been traveling at a constant speed of 55 mi/hr. She undoubtedly, was stopped at some instant in time (perhaps for a bathroom break or for lunch) and she probably was going 65 mi/hr at other instants in time. Yet, she averaged a speed of 55 miles per hour. The above formula represents a shortcut method of determining the average speed of an object.
And now a little Acceleration....
A SPEEDY REMINDER...
According to Newton's first law, an object in motion continues in motion with the same speed and in the same direction unless acted upon by an unbalanced force. It is the natural tendency of objects to keep on doing what they're doing. All objects resist changes in their state of motion. In the absence of an unbalanced force, an object in motion will maintain its state of motion. This is often called the law of inertia.

So speed and velocity are governed by laws..
If the car were to abruptly stop and the seat belts were not being worn, then the passengers in motion would continue in motion. Assuming a negligible amount of friction between the passengers and the seats, the passengers would likely be propelled from the car and be hurled into the air. Once they leave the car, the passengers becomes projectiles and continue in projectile-like motion.
Now perhaps you will be convince of the need to wear your seat belt. Remember it's the law - the law of inertia.

Thanks to, © 1996-2010 The Physics Classroom
Can you do this one?
The diagram below shows the position of a cross-country skier at various times. At each of the indicated times, the skier turns around and reverses the direction of travel. In other words, the skier moves from A to B to C to D.

Use the diagram to determine the average speed and the average velocity of the skier during these three minutes.

Show your work and explain your answer for Bonus!
Comments box is open..
What do you think of this post?
Did it help?
How so ?